La Zona

The disparity between rich and poor simmers, and finally boils with aggression. Alejandro is a teenager who lives in The Zone, an enclosed, residential haven of wealth and privilege in the middle of Mexico DF, protected by private security guards, surrounded by shocking poverty. In the early hours of his birthday, three kids from the slums break into one of the Zone's houses. In the bungled robbery that follows, an old woman is killed, but her housemaid escapes and warns security. The guards take swift, brutal action: two of the young intruders are shot dead. The third - Miguel - escapes and flees deeper into the Zone.
The manhunt begins. The Zone's residents - adults and children alike - are caught up in a show burning frenzy of fear and simmering violence. Dissenters are treated at first with suspicion, then with naked hostility. Rodrigo Plá highly anticipated directorial debut draws exceptional performances from his stellar ensemble cast, including Maribel Verdú. The film received the Luigi De Laurentiis Award at the 2007 Venice Film Festival, the FIPRESCI Prize in Toronto, and the Audience Award at the Miami International Film Festival.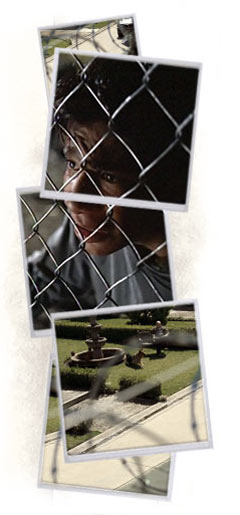 Spanish Title: La zona
Original: La zona
English Title: La Zona
Country of Origin: Spain/Mexico
Year of Completion: 2007
Running Time: 97 min.
Format/color/BW: 35mm, color
Language: Spanish
Director: Rodrigo Plá
Producer: Álvaro Longoria
Executive Producers: Álvaro Longoria, Pilar Benito
Screenwriter: Laura Santillo
Cinematography: Emiliano Villanueva
Editor: Bernat Vilaplana, Nacho Ruiz Capillas,
Ana García
Music: Fernando Velázquez
Cast: Daniel Giménez Cacho, Maribel Verdú,
Carlos Bardem, Daniel Tovar, Alan Chávez.
Director's Biography


Rodrigo Plá was born in Montevideo (Uruguay) and studied at the Centro de Capacitación Cinematográfica in Mexico City. He went on to direct short films including Novia Mía (1996) and El Ojo en la Nuca (2000). La Zona is his feature directing debut.