Pray the Devil Back to Hell

Pray the Devil Back to Hell is the extraordinary story of a small band of Liberian women – Christian and Muslims united- who, armed only with white T-shirts and the courage of their convictions, came together in the midst of a bloody civil war, took on the warlords, and brought peace to their shattered country.
In one remarkable scene, the women barricaded the site of stalled peace talks in Ghana, and announced they would not move until a deal was done. Faced with eviction, they invoked the most powerful weapon in their arsenal – threatening to remove their clothes. It worked.
Their demonstrations culminated in the exile of Charles Taylor and the election of Ellen Johnson Sirleaf, Africa's first female head of state – and mark the vanguard of a new wave of women taking control of their political destiny around the world. But ignored by the press, discounted by the politicians and obscured by the women's own modesty, this remarkable accomplishment was on its way to being lost to historical memory forever. Best Documentary Feature Award, Tribeca Film Festival.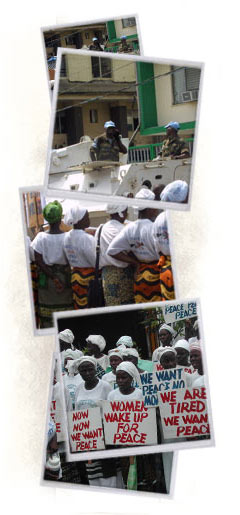 Spanish Title: Reza para que el diablo regrese al infierno
English Title: PRAY THE DEVIL BACK TO HELL
Original: PRAY THE DEVIL BACK TO HELL
Country of Origin: United States
Year of Completion: 2008
Running time: 120 min.
Format/color/BW: Digibeta, color
Language: Inglés
Director: Gini Reticker
Producer: Abigail E. Disney
Co-Producer: Johanna Hamilton
Cinematographer: Kirsten Johnson
Editor: Kate Taverna
Music: Blake Levh / Vocals by Angelique Kidjo
Cast: Leymah Gbowee, Etweda "Sugars" Cooper, Vaiba Flomo, Asatu Kenneth, Janet Johnson-Bryant, Etty Weah
Director's Biography


Gini Reticker, award winning documentary director, produced the Academy Award nominated short Asylum, and the Emmy nominated A Decade Under The Influence. Retcker won ann Emmy for Ladies First, which focused the role of women in rebuilding post-genocide Rwanda. In 2006, Reticker directed The Class of 2006, for Wide Angle, spotlighting the first fifty women in Morocco to graduate from an imam academy in Rabat. Out of the Darkness: Women and Depression garnered both an Emmy and a Gracie Award.