Blindness

Academy Award nominated director Fernando Meirelles (City Of God, The Constant Gardener), presents his most ambitious film to date. Based on the best seller by Jose Saramago, and with a screenplay by Tony Award winner Don McKellar, Blindness captures the decay of society during an epidemic of rampant blindness – "white sickness". One man is instantaneously struck blind while driving home from work. As the contagion spreads, the newly blind victims are rounded up and quarantined within a crumbling, abandoned mental asylum where all semblance of ordinary life begins to break down.
But inside the hospital, there is one secret eyewitness: one woman (Julianne Moore) who has not been affected, and is pretending to be blind in order to stay beside her beloved husband (Mark Ruffalo). Armed with increasing courage, she will lead a makeshift family of seven people on a journey, to overcome the daily challenges of their new lives, and to break out of the hospital and into the devastated city. It is an unflinching exploration of human nature, both bad and good--people's selfishness, opportunism, and indifference, but also their capacity for empathy, love and sheer perseverance.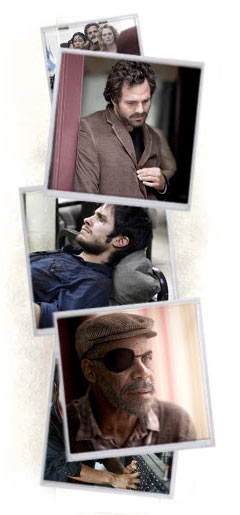 Spanish title: La Ceguera
English Title: Blindness
Original: Blindness
Country of Origin: Brazil, Canada, Japan
Year of Completion: 2008
Running Time: 120 minutes
Format: 35mm, color
Language: English/ Spanish subtitles
Directeb by: Fernando Meirelles
Executive Producer: Gail Egan, Simon Channing Williams, Tom Yoda, Akira Ishii y Victor Loewy
Producer: Niv Fichman, Andrea Barata Ribeiro, Sonoko Sakai.
Scripnwriter: Don Mckellar
Cinematographer: César Charlone A.B.C.
Editor: Daniel Rezende
Music: Marco Antônio Guimarães, Uakti.
Cast: Julianne Moore, Mark Ruffalo, Alice Braga, Yukuke Iseya, Yoshino Kimura, Don McKellar, Maury Chaykin, Mitchell Nye, Danny Glover, Gael Garcia Bernal.
Director's Biography


The Academy Award nominated Brazilian filmmaker Fernando Meirelles began his directing career in television, and in experimental films. His independent studio, O2 Filmes, became the largest in Brazil and over a period of ten years, received the most prestigious national and international prizes. Meirelles catapulted to success with the Academy Award nominated City of God (2002). He went on to produce the TV series and film City Of Men, and directed The Constant Gardener (2004) which also garnered four Academy nominations. Blindness is his fifth feature film.