Brick Lane

Nazneen's life is turned upside down when, at the tender age of seventeen, she is forced to marry an older man and leave her home in a Bangladeshi village for an apartment block in London's East End. In this new world, longing for her home and sister, Nazneen struggles to make sense of her life and to fulfill her duties as a wife. A contemporary story of love, cultural differences and the strength of the human spirit, Brick Lane is based on the award-winning novel of the same name by Monica Ali. Directed by first-time director Sarah Gavron, the film has already won numerous prizes including the CICAE in San Sebastian, the Silver Hitchcock Award and first prize for Best Script at the British Festival of Dinard Cinema. In addition, Sarah Gavron secured a BAFTA nomination for the Most Promising Newcomer.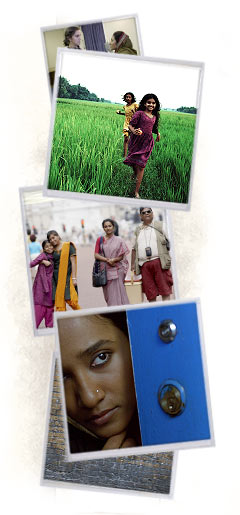 FILM TITLE (Spanish): Descubriendo el amor
FILM TITLE (Original): BRICK LANE
FILM TITLE (English): BRICK LANE
COUNTRY OF ORIGIN: United Kingdom
YEAR OF COMPLETION: 2007
RUNNING TIME: 102 min.
FORMAT/COLOR/BW: 35 mm, color
LANGUAGE: English/Spanish Subtitles
Director: Sarah Gavron
Producers: Alison Owen, Christopher Collins
Executive Producers: Paulra Jalfon, Duncan Reid,
Paul Trijbits
Screenwriter: Abi Morgan, Laura Jones
Cinematography: Robbie Ryan
Editing: Melanie Oliver
Music: Jocelyn Pook
Cast: Tannishtha Chatterjee, Satish Kaushik,
Christopher Simpson, Naeema Begum, Lana Rahman
Director's Biography


Sarah Gavron was born in London and graduated in English Literature from York University, completing her film studies at Edinburgh College of Art and the NFTS. She started her career in documentary filmmaking and has made several short films, including the BAFTA-nominated The Girl in the Lay-by (2000), and Losing Touch (2000), winner of awards at different festivals. In 2003 she directed her first full-length drama for BBC TV, the Dennis Potter Award-winning This Little Life, which also garnered two BAFTAs. Brick Lane is her feature debut.