Captain Abu Raed

Captain Abu Raed, Jordan's first dramatic feature in 50 years, is a universal story of friendship, inspiration, forgiveness, sacrifice and heroism. Abu Raed (Nadim Sawalha), an elderly lonely airport janitor, always dreamt of seeing the world, but only experienced it through books and encounters with air travellers.
Finding a discarded Captain's hat in the trash at work one day, he is followed by a neighborhood boy. The next morning he wakes up to find a group of neighborhood children at his door, believing him to be an airline pilot. Happy for the company and attention, he takes the children to colorful places around the world through his fictional stories and inspires them to believe in their own ambitions. Meanwhile, Abu Raed's friendship with Nour, a real female pilot, begins to grow as she deals with her own set of pressures from life in modern Amman.
First time director/writer Amin Matalqa also meanders the story into darker territory - and his journey deftly explores domestic violence, the importance of education, familiar familial pressures toward marriage, and the jealousies bred by childhood peers. Winner of 2008 Sundance World Cinema Audience Award.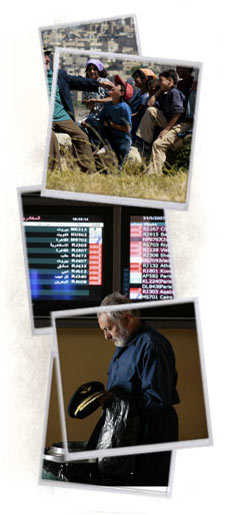 Original Title: CAPTAIN ABU RAED
English Title: CAPTAIN ABU RAED
Country of Origin: Jordan
Year of Completion: 2007
Running time: 110 minutes
Format: 35mm, color
Language: Arabic/ Spanish subtitles
Directeb by: Amin Matalqa
Executive Producer: David Pritchard, Aida Jabaji Matalqa,
Isam Salfiti
Producers: Kenneth Kokin, Nadine Toukan,
Laith Al-Majali, Amin Matalqa
Scripnwriter: Amin Matalqa
Cinematographer: Reinhard Peschke
Editor: Laith Al-Majali
Music: Austin Wintory
Cast: Nadim Sawalha, Rana Sultan, Hussein Al-Sous, Udey Al-Qiddissi, Ghandi Saber, Dina Ra'ad-Yaghnam
Director's Biography


After a successful business career in the telecommunications industry, Jordanian filmmaker Amin Matalqa started making short films while writing feature screenplays and attending The American Film Institute. After writing and directing 25 shorts in three years, Matalqa made his first feature film, Captain Abu Raed.