The Pope´s Toilet

The Pope´s impending visit to a small Uruguayan town stimulates a flurry of activity among the poorest residents, who hope to strike it rich by catering to the needs of the 50,000 expected pilgrims. Brimming with enthusiasm, the villagers not only hope for divine blessing, but above all for a small share of material happiness.
Petty smuggler Beto is certain that he has found the best business idea of all: The Pope's Toilet, where the thousands of pilgrims can find relief. He uses up his family´s savings to build a pay toilet.But before it's complete, Beto rushes headlong into trouble. He sorely tries the patience of his stoic but optimistic wife Carmen and disappoints his adolescent daughter Silvia, who dreams of a career in the media. He even loses his most precious possession, his bicycle.
This multi-award winning film and festival favorite is a touching, humorous and poignant story of human dignity and solidarity from director-scriptwriter Enrique Fernandez and co-director and noted cinematographer Cesar Charlone (City of God), co-produced by Oscar-nominee Fernando Meirelles (City of God, The Constant Gardener).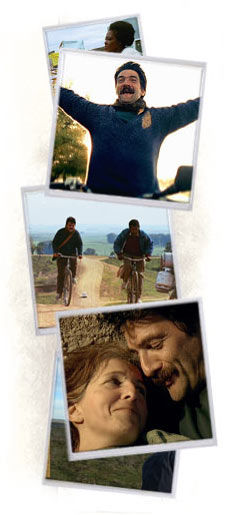 Spanish Title: El baño del Papa
Original: El baño del Papa
English: The Pope`s Toilet
Country of Origin: Uruguay, Brazil, France
Year Of Completion: 2007
Running Time: 90 min.
Format: 35mm, Color
Language: Castellano/Spanish
Directors: Enrique Fernández, César Charlone
Producers: Elena Roux, Andrea Barata Ribeiro, Bel Berlinck, Fernando Meirelles, Serge Catoire
Screenwriter: Enrique Fernández
Cinematographer: César Charlone
Editing: Gustavo Giani
Music: Luciano Supervielle, Gabriel Casacuberta
Cast: César Troncoso, Virginia Méndez, Virginia Ruiz,
Mario Silva, Henry de León
Director's Biography
César Charlone was the cinematographer on Fernando Meirelles' City of God (2001), for which he landed an Academy Award nomination, and in 2003 once again worked with the same director on The Constant Gardener, landing a BAFTA nomination for his work. His fellow Uruguayan, Enrique Fernández, has participated in documentaries and shorts as a screenwriter, assistant director or first camera.