14 Kilometers

Ambitiously re-creating the journey from west Sub-Saharan Africa to Spain by three would-be immigrants, "14 Kilometers" is honest in its portrayal of physical and psychological stress and in its refusal to craft a well-rounded plot from real-life horrors.Violeta, a teen who lives in a riverside village in Mali, has only an arranged marriage with a lascivious old man to look forward to, and decides to run off to a faraway place. Meanwhile, in neighboring Niger, mechanic Buba is a skilled soccer player; his brother, Mukela suggests he should try his skills in Europe, where "nobody dies of hunger." Violeta meets the two boys when they're all loaded on a large truck, with many others, in central Niger.
The route is across the pitiless expanse of the Tenere desert toward Morocco, via Algeria. When they're dropped off in the desert a four-hour walk from Tamanrasset, in southern Algeria, but end up going round in circles, the horrors begin to mount. The music, by Spain's Santi Vega, is location-inspired and also includes a couple pieces by local artists such as Senegal's Youssou N'Dour. Best Film, Valladolid, Best Ibero-American Fiction Feature, 2008 Guadalajara Film Festival.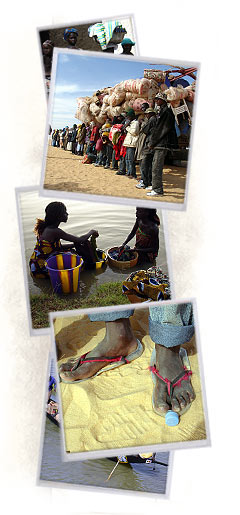 Spanish title: 14 kilómetros
Original: 14 kilómetros
English Title: 14 kilometers
Country of Origin: Spain
Year of Completion: 2007
Running time: 95 min.
Format/color/bw: 35mm, color
Language: Hausa, French dialogue/ Spanish Subtitles
Director: Gerardo Olivares
Producer: José María Morales, Óscar Portillo,
Miguel Morales, Wanda Visión, Explora Films
Screenplay: Gerardo Olivares
Cinematography: Alberto Moro
Editor: Raquel Torres
Music: Santi Vega
Cast: Adoum Moussa, Illiassou Mahamadou Alzouma,
Aminata Kanta
Director's Biography


Since 1991 he has directed documentaries and TV series mainly for Televisión Española (TVE). He has travel all around the world from Alaska to Tierra del Fuego, from Morocco to South Africa and from Madrid to Singapore. Filmography: Caravana (2005) and La gran final (2006).