The Path

In The Path (El camino), an impressively assembled feature debut from Chilean-Iraqi helmer Ishtar Yasin two hapless Nicaraguan children, Saslaya, a 12-year-old girl, and her brother Darío set out on a journey across the border in Costa Rica in search of their mother who emigrated to neighboring Costa Rica eight years earlier. The two children travel from Managua to Granada, crossing the lake, through the jungle, by bus and by boat, meeting odd people along the way: a sinister puppeteer; a young homeless boy , who heartbreakingly begs the kids to stay with him; and assorted other migrants, including two near-comic figures seen throughout, carrying only an antique table between them. What unfolds is a picaresque adventure through light and dark - at times realistic, at other times magical-realistic, occasionally taking on the air of a sinister fairytale. At the border the children get separated, and must rewrite their destiny. El Camino was awarded the FIPRESCI Prize and Special Jury Mention at the 2008 Guadalajara Film Festival.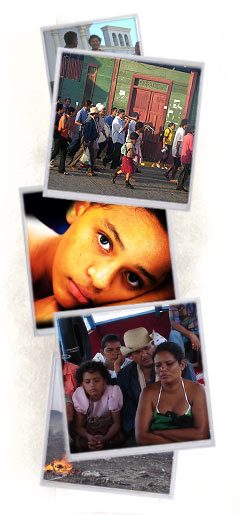 Spanish Title: EL CAMINO
English Title: The Path
Original: EL CAMINO
Country of Origin: Costa Rica/ France
Year of Completion: 2008
Running time: 91 min.
Format/color/BW: 35mm, color
Language: Spanish
Director: Ishtar Yasin
Producers: Adrián Cruz, Vinicio Musmanni,
Luis Javier Castro
Screenwriter: Ishtar Yasin
Cinematography: Jacques Loiseleux, Mauro Herce.
Editor: Valérie Loiseleux
Music: Ulpiano Duarte, Alejandro Cardona
Cast: Sherlyn Paola Velásquez, Marcos Ulises Jiménez, Jean François Stévenin, Morena Guadalupe, Juan Josué Bordas, Omar Rayo, Cornelio Flores Meza
Director's Biography


Ishtar Yasin, of Costa Rican, Iraqi and Chilean origin, was born in Moscow in 1968. After two years at the Faculty of Dramatic Arts at the University of Costa Rica she moved to Moscow in 1985 to study acting at the State Cinema Institute of Moscow (VGIK). After a productive career in theater, screenwriting and directing, in 1998 she founded Producciones Astarté, a company devoted to film. She wrote, produced and directed the shorts Florencia of the Deep Rivers and the Big Sharks (1999), I Remember You as You Used to Be (2004) and The Happy Table (2005). El Camino is her first feature-length film.