The Wave

Young and hip high school teacher Mr. Wengler decides to do an experiment with his senior class during the school's annual "Project Week" in which he is selected to explain the concepts of autocracy and totalitarianism. Contrary to Wengler's initial plans, the experiment suddenly turns into a movement among the students. First comes the logo, then the uniforms, then a Web site and, eventually, ostracism accompanied by violence. As the powerful, if ominous, group dynamic gains momentum and the number of participants multiplies to include half the student body, a handful of students try in vain to stop it. When Wengler realizes that his project has gotten out of control, he must act in time to stop his obsessed students. An electrifying drama that shows how vulnerable people can be in authoritarian situations.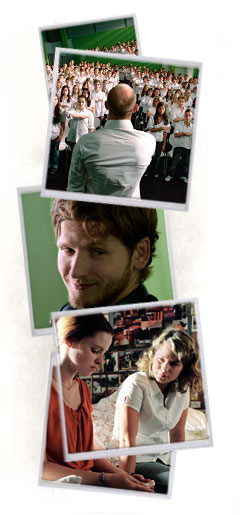 FILM TITLE (Spanish): THE WAVE
FILM TITLE (Original): DIE WELLE
FILM TITLE (English): THE WAVE
COUNTRY OF ORIGIN: Germany
YEAR OF COMPLETION: 2008
RUNNING TIME: 101 min.
FORMAT/COLOR/BW: 35mm/ Color
LANGUAGE: German/ Spanish Subtitles
Director: Dennis Gansel
Producers: Christian Becker, Nina Maag,
Martin Moszkowicz, Peter Schiller
Screenwriters: Dennis Gansel, Todd Strasser,
Peter Thorwarth
Cinematography: Torsten Breuer
Editing: Ueli Christen
Music: Heiko Maile
Cast: Jürgen Vogel, Christiane Paul, Frederick Lau, Max Riemelt, Jennifer Ulrich
Director's Biography


Dennis Gansel was born 1973 in Hanover. After graduating from Munich Film School, Gansel shot his debut film, The Phantom (2000), which went on to win a Jupiter Award and the Adolf Grimme Prize. 2001 saw his theatrical debut with teen sex comedy Girls on Top. Dennis went on to pen the script for Napola (Before the Fall) together with Maggie Peren. Released in 2004, it won the Audience Award at the Hamptons Film Festival in New York, Best Film at Viareggio European Film Festival, and a Bavarian Film Prize 2005 for Best Direction.