The Band's Visit

A small Egyptian Police band arrives in the middle of the Israeli desert, having taken the wrong bus to the wrong destination. Another bus will not come until tomorrow. What follows is a special night of quiet happenings and confessions as the band makes its own impact on the town and the town on them.
The Band's Visit marks a strong debut from writer/director Eran Kolirin , which not only supplies us with a compassionate comedy, but also turns the story into a quiet, sympathetic film about the loneliness that surrounds us. The Band's Visit won 32 prizes at festivals around the world including the Jury Coup de Coeur Prize of Un Certain Regard at the Cannes Film Festival, and is the winner of eight awards from the Israeli Film Academy.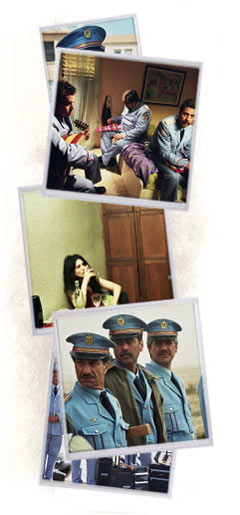 Spanish Title: LA VISITA DE LA BANDA
Original: BIKUR HA'TIZMORET
English Title: THE BAND'S VISIT
Country of Origin: Israel, France
Year of Completion: 2007
Running time: 90 min.
Format: 35mm, color
Language: Arabic, Hebrew and English / Spanish Subtitles
Directed by: ERAN KOLIRIN
Producers: Eilon Ratzkovsky, Ehud Bleiberg,
Yossi Uzrad, Koby Gal-Raday, Guy Jacoel
Co-producers: Sophie Duluc, Michel Zana
Scripwriter: Eran Kolirin
Cinematographer: Shai Goldman
Editor: Arik Lahav Leibovitz
Music: Habib Shehadeh Hanna
Cast: Sasson Gabai, Ronit Elkabetz, Uri Gavriel, Imad Jabarin, Ahuva Keren, Rubi Moskovitz, Khalifa Natour, Hilla Sarjon,
Eyad Sheety
Director's Biography


Born in 1973, Eran Kolirin's first work in film was his screenplay Zur - Hadassim , for which he won the Lipper Prize for best script at the Jerusalem International Film Festival, 1999. In 2004, Eran Kolirin wrote and directed The Long Journey, a film made for television. The Band's Visit is Eran's first feature film. Currently, Eran is writing his second feature film entitled Pathways in the Desert.