The Women of Brukman

A wonderful, inspiring story about persevering and triumphing over the system. In Argentina, in 2001, the seamstresses at Brukman Clothing Company took over the factory operation the owners had abandoned and reorganized it on a self- management model. Following these courageous women over many years, this fascinating documentary shows a venture that started as a means of survival turned into a genuine school for civics. When the Brukman women did this, they unwittingly started a movement in Argentina that has led to more than 20,000 workers forming cooperatives to run more than 200 formerly abandoned businesses. The women of Brukman not only managed to run a large business successfully with no previous experience or education, but somehow they also summoned up the will to unite against a government that rewarded corruption and the ruthless exploitation of workers. In this context, their struggle and eventual triumph seems even more extraordinary.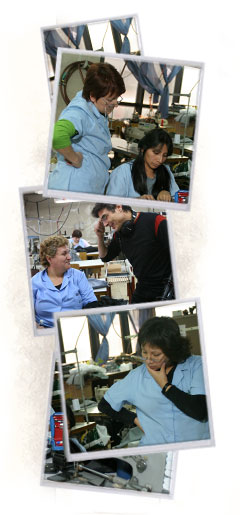 FILM TITLE (Spanish): LAS MUJERES DE LA BRUKMAN
FILM TITLE (Original): LES FEMMES DE LA BRUKMAN
FILM TITLE (English): THE WOMEN OF BRUKMAN
COUNTRY OF ORIGIN: CANADA
YEAR OF COMPLETION: 2008
RUNNING TIME: 90 min.
FORMAT/COLOR/BW: DIGIBETA, COLOR
LANGUAGE: Spanish, with English subtitles
Director: Isaac Isitan
Producer: Carole Poliquin
Writer: Isaac Isitan
Cinematographer: Tolga Kutluay
Editor: Fernando Lopez-Escriva
Composer: Robert C. Lopez
Director's Biography


Isaac Isitan was born in Turkey. He studied law at the University of Istanbul before launching into a film-producing and directing career. In Turkey, he founded the group Cinéma du Peuple and produced and directed many films, including Money, By Any Means Necessary, and The Voodoo. He was also an ABC-TV correspondent in the Middle East from 1978 to 1980. He has been living in Canada since 1980 as a Canadian citizen, producing and directing documentaries and reports for the Canadian Broadcasting Centre and private broadcasters in Montreal.