Caramel

Caramel is a romantic comedy centered on the daily lives of five Lebanese women living in Beirut. Layal (played by writer/director Nadine Labaki) works in a beauty salon along with three women:Layal has a relationship with a married man, Nisrine who is no longer a virgin, will soon be married, Rima is a lesbian and Jamal is worried about getting old.Rose, a tailor with a shop next to the salon, is an old lady who devoted her life to take care of her older sister, has just now found her first love.
They come to get primped and pampered and together to freely talk about sex, aging, motherhood, adultery and to let go of their burdens.In her lively directorial debut, Nadine Labaki and her ensemble cast (of non-professional actresses) were awarded Best Female Ensemble Cast at the Middle East Film Festival and the Audience Award at San Sebastian.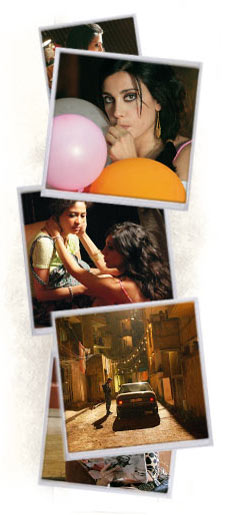 Spanish Title: Caramel
English Title: Caramel
Original: Caramel
Country of Origin: Lebanon/ France
Year of Completion: 2007
Duration: 95 min.
Format: 35mm, color
Language: French, Arabic/Spanish Subtitles
Director: Nadine Labaki
Producer: Anne-Dominique Toussaint
Screenwriters: Nadine Labaki, Jihad Hojeily,
Rodney Al Haddad
Cinematographer: Yves Sehnaoui
Editor: Laure Gardette
Music: Khaled Mouzannar
Cast: Nadine Labaki, Yasmine Al Masri, Joanna Moukarzel,
Gisèle Aouad, Adel Karam, Sihame Haddad
Director's Biography


Nadine Labaki was born in Lebanon. She studied at the Université Saint-Joseph in Beirut where she made her graduation film, 11 rue Pasteur (1997). She went on to direct many acclaimed music videos and commercials, as well as acting in several short films and the feature Bosta (2005). Caramel is her feature directorial debut.