Sleep Dealer

In a near-future world not far different from today, a young resident of a remote Mexican village named Memo Cruz (Luis Fernando Peña) taps into a security network where officials are discussing the problem of "Aqua Terrorism" The fallout from this eavesdropping forces him to leave town for Tijuana, where he joins an underground society of workers whose jobs are done virtually, through nodes implanted in the upper body. In desperate need of cash for himself and to send home, Memo gets a "node job" thanks to a mysterious woman he meets named Luz (Leonor Varela). Meanwhile, Luz begins to record and store her memories of Memo, and the events that transpired in his hometown begin to catch up with him. Issues of labor outsourcing, memory cooptation and water scarcity mingle with the dystopian science fiction -parables of Huxley and Orwell and the way-out visions of The Matrix or eXistenZ- directed by the renowned digital media artist Alex Riviera. Winner of the Screenwriting Award and the Alfred P. Sloan Prize for best focus on science or technology at the Sundance Film Festival and the Amnesty International Award at the Berlin Film Festival.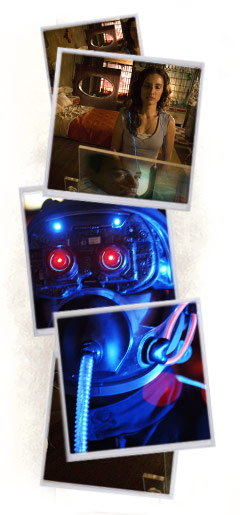 FILM TITLE (Spanish): El traficante de sueños
FILM TITLE (Original): SLEEP DEALER
FILM TITLE (English): SLEEP DEALER
COUNTRY OF ORIGIN: USA / Mexico
YEAR OF COMPLETION: 2008
RUNNING TIME: 90 mins.
FORMAT/COLOR/BW: 35mm/Color
LANGUAGES: Spanish/English, Spanish Subtitles
Director: Alex Rivera
Producer: Anthony Bregman
Executive Producers: Guy Naggar, Peter Klimt
Screenwriters: Alex Rivera, David Riker
Cinematography: Lisa Rinzler
Editing: Alex Rivera
Music: Tomandandy
Cast: Luis Fernando Peña, Leonor Varela, Jacob Vargas, Tenoch Huerta, Metztli Adamina
Director's Biography


Alex Rivera is a New York based digital media artist and filmmaker, which work addresses concerns of the Latino community through a language of humor, satire, and metaphor. His films have been screened at The Guggenheim, Lincoln Center, PBS, Telluride, The New York Expo, on European cable Planete, and other international venues. Sleep Dealer is his first feature film.