War Dance

A cinematic triumph, this heartwarming and heartbreaking tale follows three Ugandan children- Rose, Nancy and Dominic – borne of war-Northern Uganda, thrust into the mayhem and brutality of a long-standing civil war -- as they prepare to compete in a national music competition. For more than 20 years, the Lord's Resistance Army, a rebel militia group, has been waging war in northern Uganda. Amidst the violence, the LRA has abducted thousands of children,stealing their childhood, forcing many to take up arms and commit unspeakable acts against their own people.
War/Danceis a film of striking paradoxes in which the children's accounts of affliction are starkly contrasted with the joy and pride achieved in preparing for competition. Far from being yet another "sad war torn child orphan story," War / Dance catches the wind that is the aspiration of these young refugees in their quest to compete in Uganda's national music and dance festival in Kampala. It is month of rehearsals, two-days travel under armed guard from their remote camp but light years from the struggle and tragedy of their everyday lives. What they encounter is the world they should have had: of joy, of laughter, of competing to be "the best" in the exercise of one's passion. Winner of the Documentary Directing Award at this year's Sundance, husband and wife filmmakers Sean Fine and Andrea Nix Fine expertly deliver a beautifully crafted and unforgettable story of hope.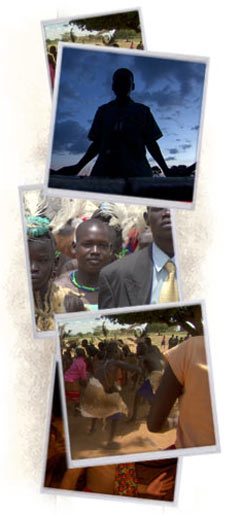 Spanish Title  Guerra Danza
English Title: War Dance
Original: War Dance
Country Of Origin: United States
Year of Completion: 2006
Running Time: 105 minutes
Format: Digibeta, Color
Language: English/ Swahili
Directors: Andrea Nix Fine, Sean Fine
Executive Producers: Susan MacLaury, Mark Urman, Daniel Katz
Productor: Albie Hecht
Co-productors: Josie Swantek, Kari Kim
Associated Productor: Andrew Herwitz
Cinematographer: Sean Fine
Editor: Jeff Consiglio
Director's Biography


War/Dance is the directorial debut of Sean Fine and Andrea Nix. The husband and wife team has filmed in more than 30 countries to bring powerful human stories to the screen for National Geographic and formed Fine Films in 2003. Honors include an Emmy, a Chris Award, and honorable mentions at the New York Film Festival and the Missoula Wildlife Film Festival.