Ripple Effect

First generation immigrant, and hip, new-age clothing designer, Amer Atrash. left Lebanon in pursuit of the America Dream. Just before the launch of his clothing brand Atrash, the rug is pulled from under his feet at the eleventh hour. Meanwhile, his wife Sherry, feeling neglected, decides that she needs time to think in order to reevaluate her situation—thus, she requests that Amer move into his office. Amer tries to bury himself in his work, but is haunted by the memories of an event that transpired years ago. Finally, he confesses his secret to Sherry, divulging the story of an accident fifteen years earlier, that left Phillip Blackman a cripple and in a wheelchair. Amer believes that all of the pitfalls he has encountered in life since that night are directly linked to bad karma from that event. A compassionate Sherry encourages Amer to find Phillip and make amends. Eventually, Phillip takes Amer on a journey, the goal of which to change Amer's state of mind and help bring him nearer to enlightenment.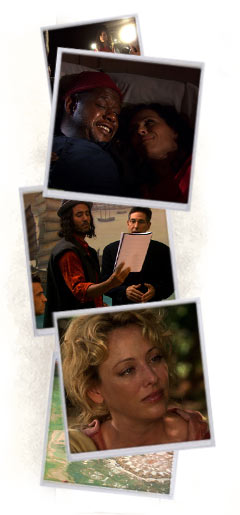 Spanish Title: Efecto dominó
Original: Ripple Effect
English Title: Ripple Effect
Country of Origin: USA
Year of Completion: 2007
Running Time: 82 min.
Format/color/BW: 35mm, color
Language: English, Spanish Subtitles
Director: Philippe Caland
Producer: Philippe Caland
Co-producers: Evans Butterworth, Joseph Semense
Executive producers: Forest Whitaker, Virginia Madsen, Minnie Driver, Pierre Caland.
Guionista/Screenwriter: Philippe Caland
Cinematography: Daron Keet
Editor: Joseph Semense,Yvan Gauthier
Music: Anthony Marinelli
Cast: Forest Whitaker, Virginia Madsen, Minnie Driver, Philippe Caland, John Billingsley, Kali Rocha,
Kip Pardue.
Director's Biography


Born of French/Lebanese descent, Caland wrote the story for 'Boxing Helena' in 1993. In 1998, Co-Producers Caland and Sean Penn were nominated for an Independent Spirit Award for the film, 'Loved.' Caland is also the founder of Econology, an organization that supports concepts and campaigns that promote environmental sustainability.