The Past
Film Title (Original): The Past
Film Title (English): The Past
Film Title (Spanish): El Pasado
Country of Origin: Argentina/Brazil
Year of Completition: 2007
Running Time: 114 minutes
Format/Color/BW: 35mm, Color
Language: Spanish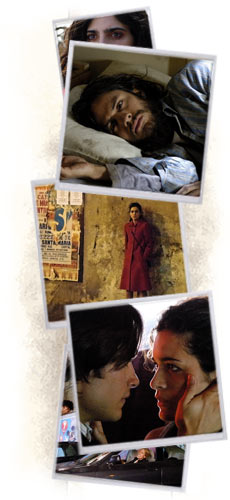 Director: Héctor Babenco | Biography | Watch Trailer
Film Synopsis - Short:
El Pasado El Pasado directed by master filmmaker Hector Babenco explores the many facets of the differences perceived in relationships between men and women. A couple decides to split after 12 years together. The man find it easy to move on, but difficult to prevent his ex from hounding him, or the new women in his life. Starring Gael Garcia Bernal.
Film Synopsis - Long:
Héctor Babenco is one of Latin America's most prolific filmmakers, and his films have greatly contributed to the renaissance and success of cinema from that region. His latest feature, El Pasado, is a more personal film about a love affair that has ended and expresses Babenco's views on the different ways that men and women approach breakups. Rimini (Gael García Bernal), a young translator separates after being married for 12 years to Sofía (Analía Couceyro), his first girlfriend. The delicate nature by which the two conduct the separation appears to be ruptured when he begins to go out with Vera (Moro Anghileri), a young model of 22 years, behind Sophia's back. Vera is later hit by a car dies.

A year later, after having recovered, Rimini marries his colegue, Carmen (Ana Celentano). A mysterious amnesia, induced by the trauma of Vera's death, impairs his ability to remember languages he used to translate. With the help of Carmen, Rimini ende up adopting the uncomfortable role of the dependent husband. The birth of his son, Lucio, later helps him to regain his spirits.

Outstanding performances complement Babenco's superb direction, which creates an ominous mood as we watch Rimini and Sofia deal (or, rather, fail to deal) with both past and present. This master filmmaker's latest work offers a bold view of the type of relationship that some individuals never seem to escape.
Film Credits
Director: Héctor Babenco              
Producers: Oscar Kramer, Hugo Sigman, Héctor Babenco
Executive Producers: Paula Zyngierman, Pola Zito, Andréia Ramalho
Screenwriter: Marta Góes, Hector Babenco Based on the novel by Alan Pauls
Cinematography : Ricardo Della Rosa
Editing: Gustavo Giani
Music : Iván Wyszogrod
Cast: Gael García Bernal, Analia Couceyro, Ana Celentano, Moro Anghileri
Film History/Prizes:
2007 Toronto International Film Festival
2007 San Sebastian Film Festival