Away From Her
Film Title (Original): Away From Her
Film Title (English): Away From Her
Country of Origin: Canada
Year of Completition: 2005
Running Time: 110 minutes
Format/Color/BW: Digibeta, Color
Language: English (Spanish subtitles - from DRGFF)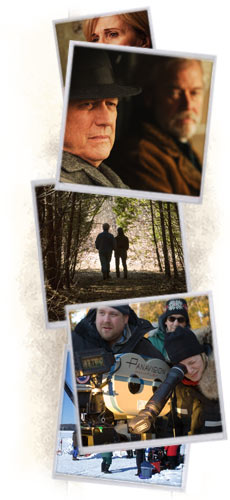 Director: Sarah Polley | Biography | Watch Trailer
Film Synopsis - Short:
Canadian actress-turned-director Sarah Polley faithfully adapts Alice Munro's short story "The Bear Came Over the Mountain" in her moving directorial debut. Gordon Pinsent plays Grant, a husband whose wife (Julie Christie) begins to lose her memory to Alzheimer's. Their long marriage is tested in this tender, poignant film. Also starring Olympia Dukakis and Michael Murphy.
Film Synopsis - Long:
Away From Her is the lyrical screenplay adaptation of celebrated author Alice Munro's short story "The Bear Came Over the Mountain".
Sarah Polley marks her directorial debut with this beautifully moving love story that deals with memory and the circuitous, unnamable paths of a long marriage. Married for 50 years, Grant (Gordon Pinsent) and Fiona's (Julie Christie) commitment to each other appears unwavering, and their everyday life is full of tenderness and humour.  When Fiona is diagnosed with Alzheimer she decided to enter into Meadowlake, a retirement home that specializes in the disease.
After an excruciatingly painful 30 days separated from his wife, Grant returns to Meadowlake to discover Fiona seems to have no memory of him and has turned all of her affection to Aubrey (Michael Murphy), another resident in the home.
Grant, finding no option but to accept his new status as an attentive acquaintance visits her daily and is forced to bear witness to the cement bond that has developed between her and Aubrey. When Aubrey's wife, Marian (Olympia Dukakis) returns from her vacation, she suddenly takes Aubrey out of Meadowlake. Grant, fearful for Fiona's life, embarks on the greatest act of self-sacrifice of his life as a means to attaining his wife's final happiness.
Film Credits
Director: Sarah Polley              
Producers: Daniel Iron, Simone Urdl, Jennifer Weiss, Victoria Hirst
Executive Producers: Atom Egoyan, Doug Mankoff
Screenwriter: Alice Munro, Sarah Polley
Cinematography : Luc Montpellier
Editing: David Wharnsby
Music : Jonathan Goldsmith
Cast: Gordon Pinsent, Julie Christie, Olympia Dukakis, Stacey LaBerge, Deanne Dezmari, Clare Coultier, Thomas Hauff, Michael Murphy
Film History/Prizes:
Toronto International Film Festival, New York Film Festival, Sundance Film Festival, Atlanta Film Festival