Manufactured Landscapes
Film Title (Original): Manufactured Landscapes
Film Title (English): Manufactured Landscapes
Film Title (Spanish): Paisaje Manufacturados
Country of Origin: Canada
Year of Completition: 2006
Running Time: 90 minutes
Format/Color/BW: Color
Language: English, Cantonese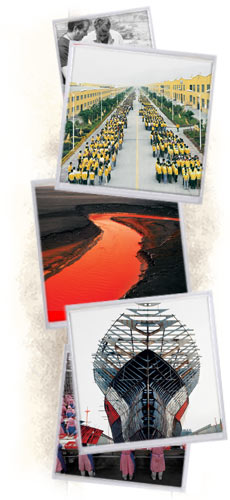 Directors: Jennifer Baichwal | Biographies | Watch Trailer
Film Synopsis - Short:
This stunning portrait of celebrated Canadian photographer Edward Burtynsky—whose grand scale photographs capture the changes to natural landscapes wrought by modern industry—is as much about the aesthetic, social and environmental dimensions of globalization (shown here primarily in China) as about the artist and his work. The film took home Best Canadian Feature Film at the 2006 Toronto International Film Festival.
Film Synopsis - Long:
Manufactured Landscapes captures the world and work of renowned Canadian artist Edward Burtynsky, who creates large-scale photographs of toxic landscapes such as quarries, recycling yards, factories, mines and dams. He photographs the materials and debris of our modern civilization in a way that is often succinctly described as "stunning". His portrayal of the strange and frightful beauty of pollutants and poisons raises many questions about ethics and aesthetics without giving easy answers.
The film follows Burtynsky to China as he travels around photographing the effects of the country's massive industrial revolution. Sites such as the Three Gorges Dam, factory floors over a kilometer long, and the breathtaking scale of Shanghai's urban renewal provide subjects for his lens and the filmmaker's motion picture camera. The film, however, is not about China per se, but rather about globalization and the West's involvement in the country's transformation—nearly everything that is today manufactured there is exclusively for Western markets.
Directed by Jennifer Baichwal and shot on Super-16mm film by gifted cinematographer Peter Mettler (a celebrated director in his own right), Manufactured Landscapes extends the narrative streams of Burtynsky's photographs, allowing audiences to meditate on how profoundly humans have impacted the planet. It shows both the epicenters of industrial endeavor and the dumping grounds of its waste. True to Burtynsky's refusal to be didactic, the film presents issues of complexity without simplistic judgments or reductive resolutions. Manufactured Landscapes nabbed awards for Best Canadian Feature Film at the Toronto International Film Festival, and for Best Documentary Feature and Best Canadian Film at the Toronto Film Critics Association Awards.
Film Credits
Director: Jennifer Baichwal              
Producer: Jennifer Baichwal, Nick de Pencier, Daniel Iron
Cinematography: Peter Mettler
Editing: Roland Schlimme
Featuring: Edward Burtynsky
Film History/Prizes:
Best Canadian Film – Toronto International Film Festival
Best Canadian Film & Best Documentary - Toronto Film Critics Association Awards
Nominated for Grand Jury Prize- Sundance Film Festival 2007
Nominated for Knight Grand Jury Prize – Miami International Film Festival 2007
Human Rights' Watch Film Festival,
Seattle International Film Festival
Vancouver International Film Festival