Baseball and film find perfect mix
by Anna Marie De La Fuente
Santo Domingo, December 2, 2008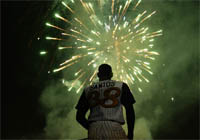 Tourists descend in droves but major league baseball scouts are also a common sight in the Dominican Republic as they trawl for fresh talent with the meanest curveball. The bulk of major league players in the U.S. reportedly hails from this baseball-obsessed Caribbean nation.

It was only fitting then that Anna Boden and Ryan Fleck's baseball pic "Sugar" (pictured above) opened the second edition of the Dominican Republic Global Film Festival (DRGFF) on Wednesday, November 19.

DR President Leonel Fernandez and a who's who of Major League players led by Sammy Sosa, David Ortiz, Pedro Martínez, and Damaso Marte joined 1,400 guests at the premiere.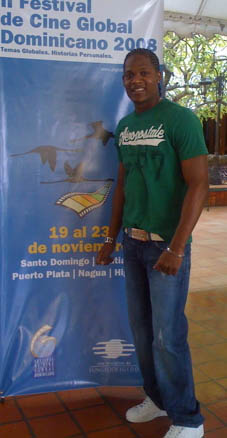 Latest pic from the "Half Nelson" team was shot on location for 11 days at the Dominican Republic, tapping local raw talent. "Sugar" lead Algenis Perez (pictured right) was number 452 out of 600 auditions, says Boden.

Fest is the brainchild of President Fernandez whose drive to foster education and the arts in the country has earned him widespread kudos. He presides over the non-profit foundation Funglode and its Washington DC and NY-based counterpart, Global Foundation for Democracy and Development, which ran a pretty smooth event considering its fledgling status. Launched in 2006, last year's fest was cancelled because of a hurricane.

Such was the power behind the fest that guests were whisked through customs and passport control as soon they stepped off the plane.

Fest's theme of "Global issues, personal stories" ran throughout its selection of 26 pics and 10 docs. Features included "The Band's Visit," "Persepolis," "Tropa Elite" and "Fados." along with docus "Taxi to the Dark Side," "Flow: For the love of water," "Emmanuel Jal: War Child" and Madonna's "I Am Because We Are."

Screenings encompassed five cities at 10 venues in universities, cultural centers and malls.

More than 30,000 people attended the festival, tripling its 2006 attendance.

Keeping costs down were at least 200 keen volunteers, serving as guides (called "edecans"), drivers and ushers among myriad functions.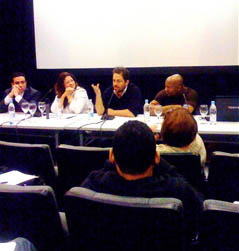 Participants in the various panels included helmers Brett Rattner and John Singleton, Dominican thesp Dania Ramirez ("Quarantine"), consultant Rob Aft, Venevision Int'l acquisitions head Millie Luna as well as film critics John Anderson and Julie Salamon. Arturo Rodriguez, who heads DR's oldest film fest, the Muestra Int'l de Cine de Santo Domingo, also held forth at the film critics panel.

Fest also paid tribute to Elba McAllister, co-founder and prexy of leading Colombian indie distributor, Cineplex which has expanded its reach to Central America and plans to distribute pics in the Dominican Republic.

McAllister led a master class on distribution while Carlos Arguello, founder/head of animation/digital studio Studio C in Guatemala, held one on Animation and Special Effects.

Fest General Director Natasha Despotovic, who is of joint Croatian and Dominican nationality, presided over closing night on Monday, Nov. 23. Closing pic "Young@Heart," which documents a Massachusetts choir of octogenarians, was the pitch perfect counterpoint to the festival's celebration of youth and all its glorious potential.