Awards for the 3rd Short Films Competitions to be awarded by a special jury.
The winners will receive an iMac and will be given the opportunity by Panamericana Productions to make a short film. will receive a scholarship to take a workshop at the Film School of the University of California Los Angeles (UCLA) and will be offered the chance to take a workshop at the School of Film and Television in San Antonio de los Baños, Cuba (EICTV).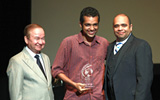 Second Place:
Iguales
Director: Claudia López
Length: 00:07:58:00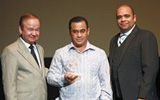 First Place:
La Mujer
Director: Jesús Reyes Mota
Length: 00:11:32:00
Third Place:
!Hola Mama!
Director: Miguel Alcántara
Length: 00:11:38:00