Santo Domingo, November 18, 2011
"Las malas intenciones" - Interview with the director, Rosario García-Montero
"Las malas intenciones" (Bad Intentions) by Peruvian director, Rosario García-Montero, showed on Friday at the Telecommunications Cultural Center as part of the Dominican Global Film Festival (DRGFF).
Director García-Montero will not likely forget the good news she received while here in the DR where she is participating in the DRGFF 2011.
To begin with, last Sunday she received the news that her film, Las malas intenciones" won the "Ventana Sur" prize for a Latin American feature film at the 26th edition of the International Film Festival of Mar de Plata, in Argentina. In addition, just several days ago, "Las malas intenciones" was pre-selected for the prestigious Academia de las artes y Ciencias cinematográficas of Spain.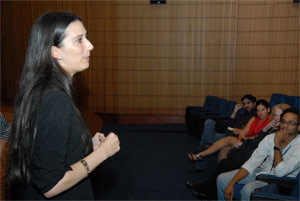 García-Montero told the audience after her film screening on Friday that her film was 5 years in the making and that she was relieved and pleased with the outcome.
"Working with an 8-year-old (Fátima Buntinx in the role of Cayetana) was a challenge but also a pleasure at the same time. She worked hard on the set all day then in the afternoon she went home and had her teachers and homework waiting for her," said García-Montero at the screening in Santo Domingo.
When the film opened in Lima, Fátima, with her parents and friends, was not admitted into the theater by box office employees who said the film was too violent and that she and her friends had to be 14 to enter.
Meanwhile, Fátima Buntinx, in her first role, said on her Facebook page "I am not invisible. I will have to go back to Berlin to see my film.
" In her feature debut, García-Montero takes viewers into the world of a little girl, Cayetana, in Peru of 1982. Fantasy, sadness and joy mix and blend in the film.
Nine year old Cayetana leads a privileged life under the care of uniformed servants in a private manor about two hours from Lima. The chaos of the times, 1980's Peru, penetrates her perception through bomb threats at school, spray-painted slogans and symbols on the dusty village walls, and ominous newscasts about terrorists.
Alone and lonely Cayetana has created an imaginary world which helps her manage her time, she dreams about all of Peru's national heroes while her distant, pill popping, pregnant mother, is away on a trip.
The little girl believes that she herself will die when her brother is born. She is is desperate for attention, and when her grandmother takes her and her cousin to the beach, things start to look brighter. Still, Cayetana is determined to get rid of her new baby brother, and if she doesn't get her way, she will be ready to go out as one the national heroes of her dreams.
Ms. García-Montero explained her decision to make a movie based in this time period in her country's history. "What I wanted to show was that the level of terrorism was the beginning of the conflict. When Cayetana and her grandmother's driver dies, his replacement comes with bodyguards and darkened window to take Cayetana to school. This was to show the turning point when Peruvian society changes and the country becomes more violent. Terrorism grew and grew and what people did to their cars and their homes was to darken their windows and build bigger walls around themselves, but higher walls are not going to make the problem disappear."