Santo Domingo, Nov 20, 2012
Fashion is Also Freedom of Expression
The film, Bill Cunningham New York is a documentary about freedom of expression as seen on the streets of the city through fashion.
(Santo Domingo, Nov 20, 2012) Fashion as freedom of expression is the underlying theme of Richard Press's documentary, Bill Cunningham New York,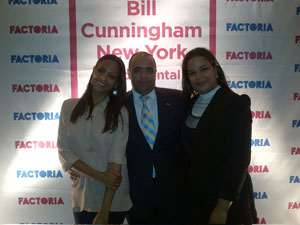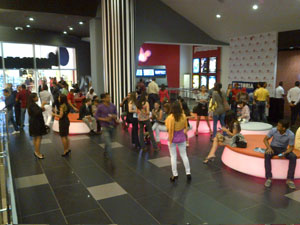 screened at the 1st Fashion Film Showcase, sponsored by the Factoría magazine, as part of the VI Dominican Global Film Festival (FCGD).
At the Agora Mall's Palace Cinema, viewers saw the final film of this new addition to the FCGD. The documentary is about Cunningham's chronicle of fashion trends on the streets of New York City as well as high society charity gatherings for the Times Style section. The film attests to the freedom of fashion expression that New York residents and visitors feel in this fashion-minded city.
At 83, Bill Cunningham, contributor to the New York Times sections "On the streets" and "Evening Hours," Times, continues to scoot around town on his bicycle or on foot as he pursues his two passions: fashion and photography. In his continuous search for fashion, he not only takes pictures of famous people but also regular people walking down the street who catch his eye with their unique style or accessories.
Prior to the screening, Director of the FCGD, Omar de la Cruz, explained to the audience that next year's Film Festival in 2013 will include a series of fashion films and essentially be the 2nd Fashion Film Showcase. He said that this type of initiative is not only a cultural offering but is also educational.
Deborah Karter, Director of Factoría, introduced the film along with Mr. De la Cruz and Yvette Marichal, Director of Public Relations of the FCGD.
National and international designers and guest artists of the FCGD attended the screening. These included Venezuelan actor Fernando Carillo, Mexican-based actors Mauricio Genao and Marta Gonzalez; Dominican actors Juan Fernández, Cisely Saldaña and Ramses Jiménez as well as the professional actor and model Rubén Cortada who has worked with such prestigious designers as Ungaro, Gaultier and Ferre.
Synopsis of Bill Cunningham New York
"We all get dressed for Bill", says Vogue editor Anna Wintour. The Bill in question is New York Times photographer Bill Cunningham. For decades, this Schwinn-riding cultural anthropologist has been obsessively and inventively chronicling fashion trends and high-society charity soirees for the Times's Style section in his columns "On the Street" and "Evening Hours."
Full of uptown fixtures (such as Ms. Wintour, Tom Wolfe, Brooke Astor, David Rockefeller—who all appear in the film), downtown eccentrics and everyone in between, Cunningham's enormous body of work documents its time and place as well as individual flair. Bill Cunningham New York portrays the man at work (on the street and at the office), at home (a Carnegie Hall studio) and working under the rain, snow and sun in the city.
This documentary has won in 2010 "Opening Night Film New Directors/New Films", Audience Award for Best Documentary Film at Sydney Film Festival (2010), Best Documentary at Nantucket Film Festival (2010), Best Documentary Audience Award at Melbourne International Film Festival (2010), Best Documentary at Abu Dhabi International Film Festival (2010).