Since the beginning of 2008, the teams from the Fundación Global Democracia y Desarrollo and the Global Foundation for Democracy and Development worked laboriously on what would form the content of the II Dominican Global Film Festival.
Thirty six high quality films from the most renowned film festivals around the world were seen here in Dominican territory, all of them related to the Festival's theme: "Global Issues,
Personal Stories."
The Second Dominican Global Film Festival showed the following:
26 feature films
10 documentaries
In 5 cities…
At 10 screening venues…
More than 30,000 people attended the festival around the country.
More than 200 volunteers helped out at the various events.
Thanks to close collaboration with the Ministries of Culture, Education and Higher Education, as well as the Autonomous University of Santo Domingo and other universities around the country, thousands of young people from elementary, high school and university enjoyed the wonderful array of films.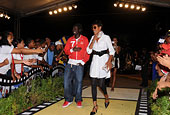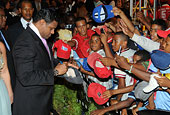 There were also 17 panel discussions, master classes and workshops held by professionals and Dominican fans of the film industry.
This year, for the first time, we held series of 14 panels on various topics related to the content of a given film, such as: the global water crisis, HIV/AIDS, globalization and rural development, social psychology and group dynamics, human rights, women as agents of change and domestic violence.
The Festival paid tribute to the Colombian film distributor Elba McAllister, founding partner and executive president of Cineplex.
And, for the first time, the audience voted for best dramatic film and best documentary.
There were more than 100 international and renowned guests invited to the II Dominican Global
Film Festival.

We invite you to visit our webpage on the Internet at www.drglobalfilmfestival.org if you´d like to reminisce a bit about the Festival. There you can virtually attend the workshops and panel discussions, see photographs, check out who won in which categories, listen to interviews with international filmmakers, read the numerous articles and content of the entire Festival.
Now that the Second Edition of the Dominican Global Film Festival has come to a successful and
delightful end, we turn out sights to the third festival, to be held November 18 to 22, 2009.
We are already preparing a wide variety of events that will include some new things, such as, for example, a special day for the showing of Dominican short films.
Join us and let´s get ready for an even bigger and more exciting festival, ever more substantial and enriching.
See you soon!!!